---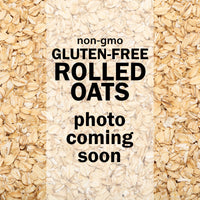 Weight: 450 g
A 450 gram resealable bag of purity protocol, non-gmo, gluten-free rolled oats.
Free from all priority allergens in Canada:
Wheat & Gluten free
Dairy free
Egg free
Peanut free
Tree nut free
Fish and Seafood free
Sesame free
Sulphite free
Soy free
Mustard free
These are a RTC (ready-to-cook) product and intended for further baking before consuming. Not meant for raw consumption
Care: Store in a cool, dry place.  Do not consume raw oats.