---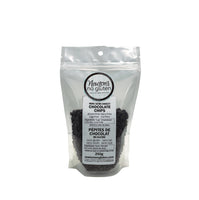 Newton's No Gluten Mini Semi-Sweet Chocolate Chips.
250g in a resealable package.
Our mini chocolate chips are free from the top 11 priority allergens in Canada.
Wheat and gluten free
Peanut free
Tree nut free
Milk/Dairy free
Egg free
Soy free
Fish and Seafood free
Sesame seed free
Sulphite free
Mustard free

Vegan/plant based.
Ingredients: Sugar, Unsweetened Chocolate, Cocoa Butter.
Weight: 250 g
Care: Store in a cool, dry place.